Summer Beauty Care Tips
Throughout the summer, it's easy to enjoy the long, hot days outside without thinking about how the heat and sun can affect your beauty routine. If you want to ensure that you protect your overall health, including your skin, hair, and nails, you'll need to switch up your daily beauty routine during the summer.
The summer heat can be extremely drying, and constant sun exposure can have long-term effects on our skin. Here are a few of our best summer beauty tips, to help you look both radiant and relaxed, even on the longest, hottest days.
Related Topics (Ads):
Stay hydrated
One of the most important things to remember in the summer is that the heat can zap our energy, and will make us dehydrated much faster than in cooler seasons. When we're dehydrated, our skin responds accordingly, and can quickly become itchy, dry, red, and irritated. The best way to ensure that skin gets the moisture it needs is to drink plenty of water — six to eight glasses a day as least.
If your face feels particularly tight, or if you're in the sun all day, you can purchase a can of facial water, which has lots of added nutrients, and gives you a much-needed hydration boost, directly where you need it most.
Use sunscreen as much as possible (even on your lips)
Long, sunny days are one of the best things about summer, however; it's easy to forget about the time, and spend much too long under the hot sun. UV rays are extremely harmful for your skin, and can lead to premature signs of aging as well as an increased risk for skin cancer. If you're going to be in the sun at all, make sure you use sunscreen, all over your body — even under clothing.
SPF 30 is considered the minimum for adults, but if you're fair-skinned, you probably want to use one that's close to SPF 45 or higher. Don't forget about your lips! There are plenty of lip balms that contain SPF 15 or 30.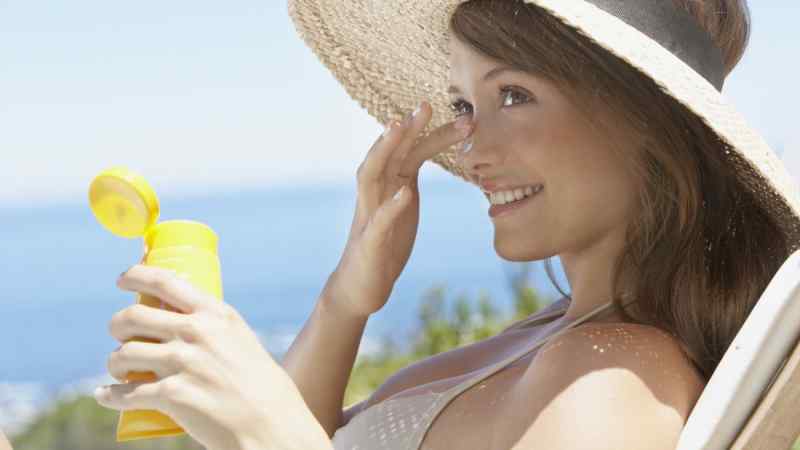 Pick the right sunscreen
If you don't use sunscreen because it's too much of a hassle, or you find it too greasy, you're probably not using the correct type. There are so many different brands and formulas on the market today — there's no reason to use one that doesn't work with your skin type. For everyday wear, a moisturizer with added SPF is the perfect amount of light coverage. If you're spending the day at the beach or outdoors in intense sun, pick one with SPF 45 or higher, in a formula that can withstand prolonged sun exposure, like a heavier sport sunscreen. These heavier sunscreens are great for long days outside but can make you break out if you use them every day.